Top New Orleans Kid's Menus
« back to Tips
July 25 2022 |
Family Travel Tips
NOLA Dining Without the Whining.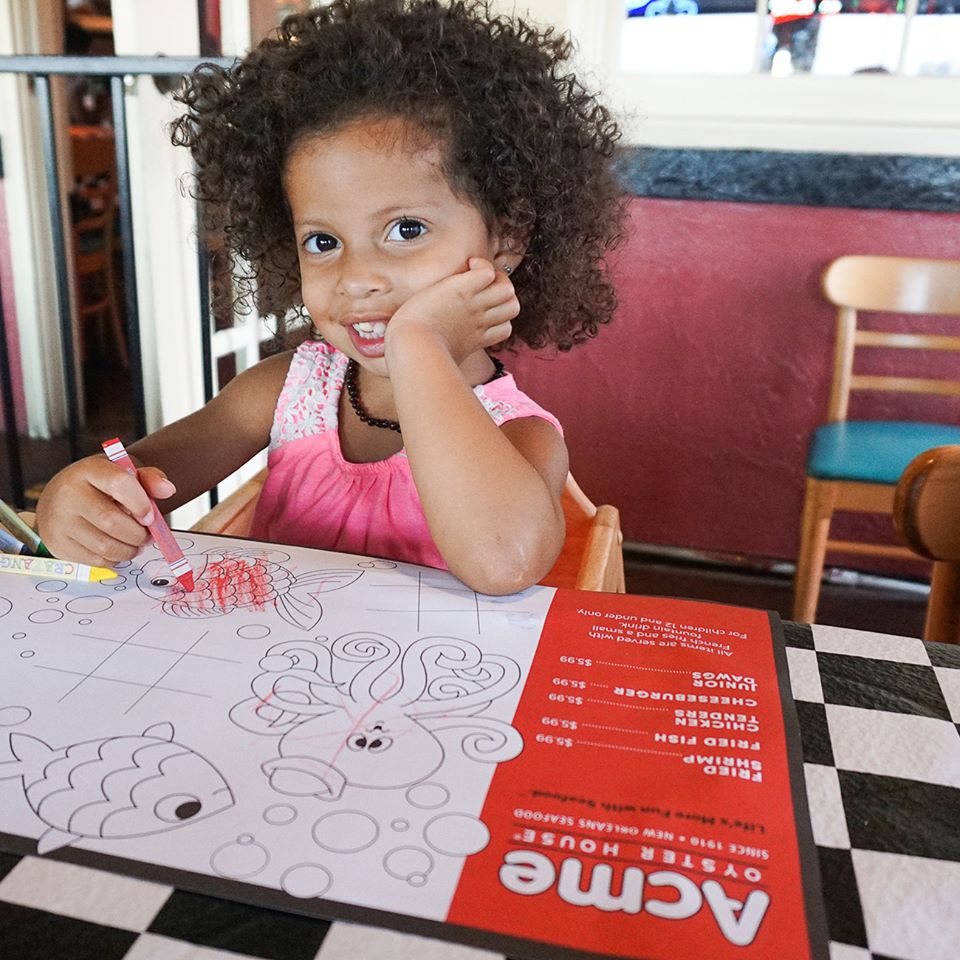 Raw oysters? Nuh uh. Fried alligator? No way, dude.
New Orleans may be the Creole and Cajun Culinary Capital of the World but, let's face it, most little ones aren't going to be happy with iconic New Orleans dishes like turtle soup, crawfish étouffée, and bread pudding with whiskey sauce.
On the other hand, fresh-caught, fried Gulf seafood is always a kid pleaser but, if your kids will go through withdrawal without chicken tenders, you can find it in our local restaurants as well.
Acme Oyster House in the French Quarter and Metairie serves a whole lot more than oysters. Kids under 12 can have their choice of Fried Shrimp, Fried Fish, Chicken Tenders, Cheese Burgers and Junior Dawgs–all served with French fries and a small fountain drink–for just $5.99.
Felix's menu in the French Quarter and at the Lakefront has great choices for your little ones as well, including Fried Fish, Fried Shrimp, Chicken Tenders and Hamburgers. Plus, your kids will get a kick out of watching the oyster shuckers at work even if they won't eat oysters.
The thing that really stands out to us on Oceana's Kid's Menu is The Big Ch-Easy Burger, but they also have Fried Shrimp and great Chicken Tenders. We love that you can get kiddy cocktails here. Remember Shirley Temples and Roy Rogers?
The kid's menu at Mulate's Cajun Restaurant in the Arts/Warehouse District is a winner, too. Burgers, Shrimp, Fish, Chicken Tenders, Buttered Pasta...it's all good.
Does your family love Italian? Head to Metairie! Andrea's Restaurant has a fabulous kid's menu featuring Spaghetti and Meatballs, Cheese Ravioli, Chicken Fingers, Gourmet Cheese Pizza and more!
Porter & Luke's on Metairie Road is idea for families as well. There your kids can choose from Meatballs & Pasta, Luke's Chicken Fingers, Catfish Strips and Porter's Shrimp Plate.
And although they don't have a kid's menu per say, Commander's Palace in the Garden District offers off-the-menu kid items like Fried Shrimp and Fried Chicken with fries on the side. They also serve a wonderful mocktail called the Duck Bubble Bath made with orange juice and cranberry juice, garnished with a rubber duck wearing a chef's hat.
After a day of exploring New Orleans, your kids are going to be hungry. Make sure you know where to go. Find more family restaurant ideas.
Photo courtesy Acme Oyster House
>>Go to Free Things to Do in New Orleans
« back to Tips
Check Hotel Availability