Top New Orleans Kid's Menus
« back to Tips
August 23 2019 |
Family Travel Tips
NOLA Dining Without the Whining.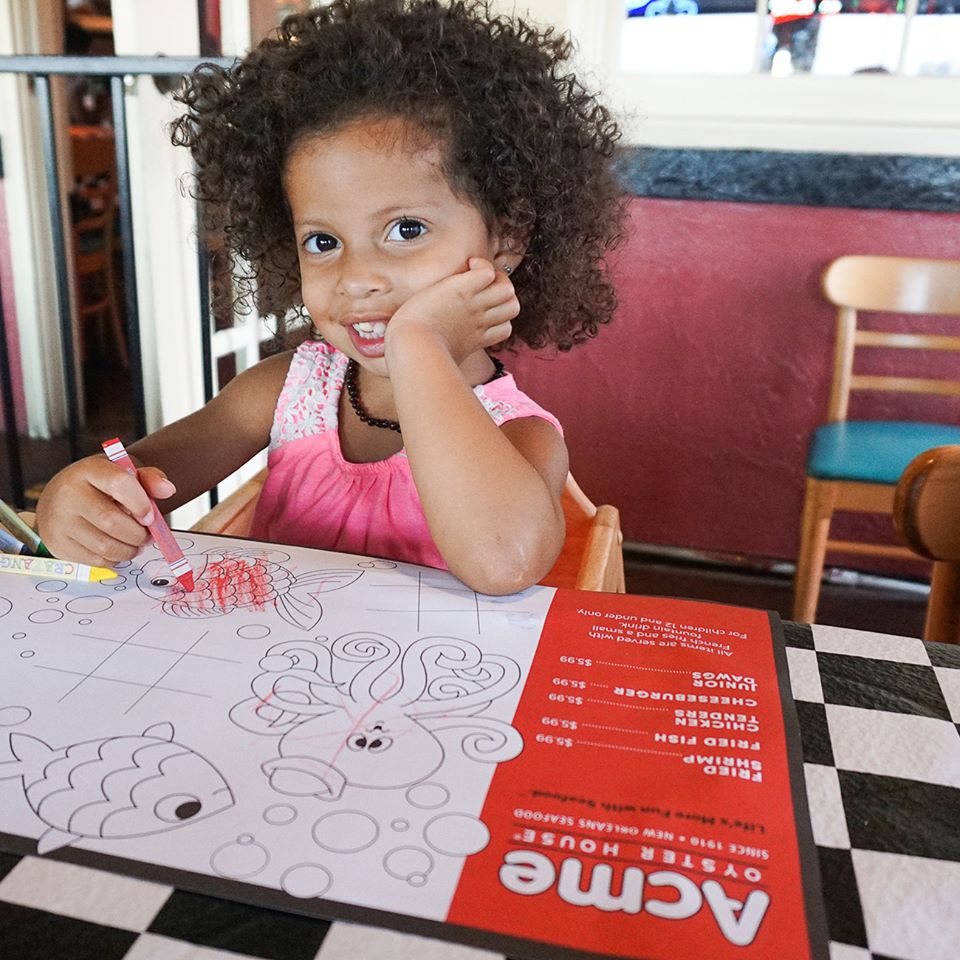 Raw oysters? Nuh uh. Fried alligator? No way, dude.
New Orleans may be the Creole and Cajun Culinary Capital of the World but, let's face it, most little ones aren't going to be happy with iconic New Orleans dishes like turtle soup, crawfish étouffée, and bread pudding with whiskey sauce.
On the other hand, fresh-caught, fried Gulf seafood is always a kid pleaser but, if your kids will go through withdrawal without chicken tenders and mac 'n cheese, you can find it in our local restaurants as well.
Acme Oyster House in the French Quarter and Metairie serves a whole lot more than oysters. Kids under 12 can have their choice of Fried Shrimp, Fried Fish, Chicken Tenders, Cheese Burgers and Junior Dawgs–all served with French fries and a small fountain drink–for just $5.99.
Felix's menu in the French Quarter and at the Lakefront has great choices for your little ones as well, including Fried Fish, Fried Shrimp, Chicken Tenders and Hamburgers. Plus, your kids will get a kick out of watching the oyster shuckers at work even if they won't eat oysters.
The thing that really stands out to us on Oceana's Kid's Menu is The Big Ch-Easy Burger, but they also have Fried Shrimp and great Chicken Tenders. We love that you can get kiddy cocktails here. Remember Shirley Temples and Roy Rogers?
Deanie's Kid's Menu is a winner, too. Children can eat for just $6.99 and that includes a drink. Their Fried Catfish is TDF. And their homemade Mac 'N Cheese is so good mom and dad will wish they were under 10! They have locations in the French Quarter, Bucktown and Uptown.
For obvious reasons, Dave & Buster's on Poydras Street near the Dome is another place kids love. The whole family will love the games and the Kid's Menu which includes Kid's Pretzel Dogs and Kid's Goldfingers (fried chicken tenders). They also offer special treats like the Blue Raspberry Snow Glowb – a snoball with JOLLY RANCHER® Blue Raspberry Syrup served with a light-up color-changing "ice cube" and a color-changing straw.
After a day of exploring New Orleans, your kids are going to be hungry. Make sure you know where to go. Find more family restaurant ideas.
Photo courtesy Acme Oyster House
>>Go to Free Things to Do in New Orleans
« back to Tips
Check Hotel Availability