3 Tips for Traveling with Kids
« back to Tips
July 29 2015 |
Family Travel Tips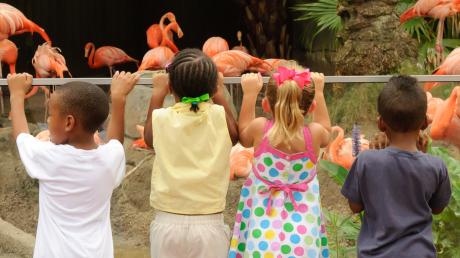 Wondering how to keep your kids entertained in New Orleans? On your next trip to the city use these three handy tips and make planning a snap!
1. To spend time in nature, plan a day Uptown to explore Audubon Park and Audubon Zoo.
The beauty of the Uptown neighborhood is concentrated in its magnificent architecture and oak trees, but it also features the Audubon Park and Audubon Zoo, a welcome nature-filled break from the busy city. Plan a picnic in Audubon Park, and let the kids run around and fly kites. If you get there early enough, snag one of the covered gazebo areas to offer some much-needed shade on a hot day. Let your kids enjoy the many exhibits the Audubon Zoo has to offer, and give them a chance to learn about all types of animals, both from the surrounding areas and across the world.
2. Take a long streetcar ride.
If you're looking for a fun but cheap activity to do with your kids that gets you off your feet and out of the sun, a streetcar ride is a perfect way to show your kids different parts of the city. The most scenic streetcar ride is arguably the St. Charles Ave streetcar, which takes you and your family past historic mansions and authentic New Orleans homes with oak tree-lined streets. But the Canal St streetcar also takes you through the bustling downtown area and into the quieter, quaint Mid-City area with its own picturesque view of the city.
You can ride from end to end on either or even both of the streetcar lines, or you can use them as convenient and fun transportation to places like the Audubon Park and Zoo, City Park and the New Orleans Museum of Art, or the downtown area. Your kids will love seeing all of the sights while riding in a fun form of transportation they likely don't have back at home.
3. To beat the heat or rain, stop at the Louisiana Children's Museum, Audubon Aquarium or Audubon Insectarium.
Downtown New Orleans may seem like an area primarily for adults, but if you have kids in tow, you'll need some things to do with them as well. The Audubon Aquarium of the Americas is one beloved stop for kids of all ages to see thousands of fish in a variety of different interactive exhibits. Afterward, take a stroll along the Mississippi River, and have a picnic in Woldenberg Park just outside. The Audubon Insectarium also offers plenty of activities and learning experiences your child will enjoy. In the nearby Warehouse District, your kids will love running around and playing with all of the fun exhibits at the Louisiana Children's Museum, from science-based educational contraptions to making their own grocery shopping trip or serving you at a kids-run restaurant. These indoor activities are perfect for hot and rainy days as well.
Traveling with kids in New Orleans is a blast when you take advantage of all of the kid-friendly attractions and activities the city has to offer. Your kids will have endless fun in a variety of locations spread across the city.
« back to Tips
Check Hotel Availability