A Kids Guide to Mardi Gras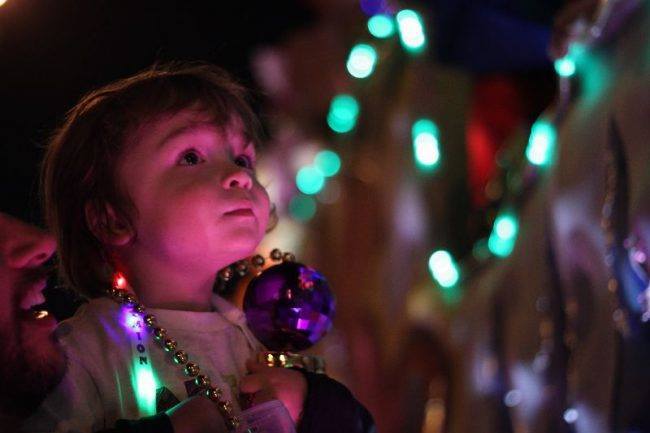 Don't worry, parents. Just because you settled down and had kids doesn't mean you can't enjoy the thrill of Mardi Gras anymore. In fact, experiencing Mardi Gras with kids in tow can be a special occasion that enables you to view the festivities from an entirely different perspective.
Yes, kids can absolutely have a fun and safe experience enjoying Mardi Gras parades. Let our Kids Guide to Mardi Gras show you how.
Best Mardi Gras Parades for Kids
Most parades will offer kids the sense of wonder that comes with seeing massive floats bedecked with flashy colors, bright lights, and astounding sculpture work, plus kids love the festive costumes and endless amount of beads and trinkets that surround the masked riders on the float. But some parades stand out for one reason or another, and these parades are likely to stay in your children's memories for years to come.
Best Spots for Kids to Watch Parades
The parade routes are long and wind through various parts of the city, some of which are more family-friendly than others. Here are a few of the best parade-watching spots for kids.
Napoleon Ave (Uptown): Napoleon Ave is a great location for two main reasons: It's a safe and family-friendly area, and it's at the beginning of the parade route, so the little ones can see all of the parades and still get to bed at a reasonable hour.
Garden District portion of St. Charles Ave (Uptown): While much of St. Charles Ave Uptown is family-friendly, the Garden District (Think: Numbered streets, between Jackson Ave and Louisiana Ave) tends to feature more families with ladders and picnic blankets than other parts of the thoroughfare.
Severn Ave or Bonnabel Ave neutral grounds (Metairie): For these Mardi Gras parades, the neutral grounds on Severn and Bonnabel offer double the fun. Your kids will love seeing the parade go by in front of them, turn around, and watch it roll right past them again (just bring enough bags to tote all the goodies home!).
NOT the French Quarter: None of the major parades pass through the French Quarter anyway, so you don't have much need to be there unless that's where your hotel is. But as a rule of thumb, the French Quarter isn't the best place to bring your kids during Mardi Gras, when neighborhood becomes the center of adults-only festivities.
What to Pack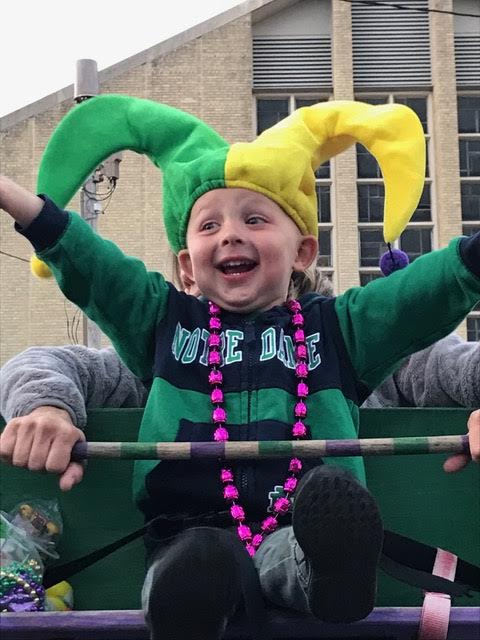 Picked your parade? Picked your spot? Now, you need to figure out what to bring along.
We recommend:
Bag(s) for collecting beads, trinkets, cups, etc.
Coloring sheets and crayons - CLICK HERE for printable Mardi Gras themed pages.
Water to stay hydrated
Hand sanitizer
Snacks or a few dollars to grab a treat from a street vendor
Toilet paper for bathroom breaks (not all porta potties are well equipped)
Sunscreen (for daytime parades)
Ponchos (in case of rain)
Camera and memory cards
Parade-tracking app for info about where parades are along the route (helpful during parade breakdowns when kids ask when the next float will get there)
Transportation Tips
Plan ahead for transportation. Driving? Know the street closures around the parade routes and where traffic will be most backed up so you can better plan your route. If you don't have your own car, know that public transportation will be much more limited, particularly along the parade routes, including the shutdown of the St. Charles Ave streetcar. You may need to find another mode of transportation or walk further than usual depending on your situation.
If driving, consider where you'll park. Often you will have to park in the neighborhoods, which can involve a lot of driving around looking for a spot and then plenty of walking from the car to the route, so be sure you budget extra time, if needed.
Last-minute Reminders
Here are a few final pointers to ensure your kids—and you—love your visit to New Orleans during Mardi Gras.
Tell your children to NOT run near the floats or horses, even if it's just to grab a quick bead or doubloon off the ground—it's just not worth being trampled.
Do not let your kids put beads or trinkets in their mouth or drink out of cups they catch before washing them. Many beads are made with petroleum byproducts, and you just don't know where any of these items have been before they landed in your child's hands (or on the ground, where your child picked it up).
That said, have your child use hand sanitizer regularly, especially before eating or drinking anything.
Like Halloween candy, consider whether you want your child eating any food items thrown from the floats, and inspect anything you may let her have.
And finally:
Laissez les bons temps rouler! (Let the good times roll!)